Leveraging Technology in the Outdoor Hospitality Industry: Beyond Reservations Systems
August 30, 2023
The Outdoor Hospitality Industry, comprising RV Parks, RV Resorts, Campgrounds, and other outdoor lodging facilities has traditionally been rooted in the idea of getting away from technology to enjoy nature.  How many of you remember the marketing effort behind a "Digital Detox" to attract guests?
Yep, I was as guilty as the next guy in pushing the idea.  Don't get me wrong, it is still a good idea but needs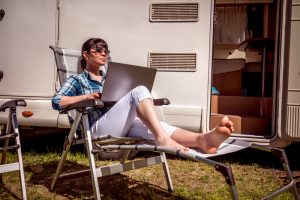 some modifications for today's reality.
Technology has become increasingly integrated into our daily lives.  That means that it is vital for owners in the industry to recognize, adapt and modernize their approach to managing their investment.
No, I am not talking about your reservation system.  Let's take it beyond making reservations, checking in/ checking out.  Let's make your guests' stay more convenient, safe, and enjoyable, while aiding in the smooth operation of the property.
Types of Technology to Consider
Smart Security
Automated gates at the entry point to the park, digital locks on the lodging, security cameras are all items that can give your guest peace of mind.  Think about taking this to the next level with the ability to shut off power at individual sites, assuring that cabins/park models are locked after check out time.  See the time savings on your employees?
IoT Enabled Amenities
Internet of Things (IoT) technology can make amenities of things like lighting, heating, electricity smart and customizable for each guest.  Think of your late arriving guest having to find their site in the dark.  What about putting outdoor lighting at their site that lights up only because there is a reservation staying at that site?
Think of being able to read meters as needed, turning electricity on or off at the site depending on the occupancy, or letting the extended stay guest monitor their usage.  You can do that with services from companies like Wild Energy
Do you have a dump station that you would like to monetize?  Check out Sani-Star.
How about being able to remotely turn on the heater or A/C in the Park Model in preparation for your guest to arrive?
Even farther outside of the box is integrating voice activated systems (think Alexa or Siri systems) allowing your guests to request services, get information or control their environment without touching anything.
Mobile Apps
I have seen several mobile apps that have been created for specific parks, but, at least for me, they are closer to a fail than they are to a success.
Most of them will list local attractions, restaurants, etc.  But this is nothing more than what I could have already found when planning my trip.  How about making that mobile app a work horse for the park?
How about being able to order a bundle of firewood and having it charged to your account?  Want a pizza from the park restaurant?  Place the order with the mobile app.
You get the idea.  Make that mobile app pay for itself instead of being a static listing of other businesses.
Final Thoughts
It's important to remember that the very essence of outdoor hospitality is to provide a refreshing, natural experience away from the hustle and bustle of everyday life.
As such, the integration of technology should be to enhance, not overshadow the stay.  Do not think of using technology to replace employees.  While that may happen to a small degree, think of using technology to free up your employees so that they can better perform the task of ensuring that guests have the best stay of their life.
As things move forward, there are emerging technologies that have great promise.  Drones could offer unique aerial views of the resort, robots could be programmed to deliver pizzas, or used to assist in emergency responses.
So, as we look forward to the future, let's think about how we can balance the wonders of technology with the irreplaceable beauty of the great outdoors.  The key lies in thoughtful, responsible, and creative integration that benefits both your guest and your property alike.
Enjoying this newsletter?  Please forward to anyone you believe would benefit from it. and have them sign up here:  Focused On Management Newsletter
Not enjoying it? Please reach out to:  pwright@FocusedOnMgmt.com, and let us know what we need to change, incorporate, or just get rid of.
Ready to transform your RV park, RV Resort or Campground?  Let's Talk! We're here to help you succeed!  Just reach out.
Get time on our calendar
Give us a call at 337.735.4070
Reach out through our website contact page.